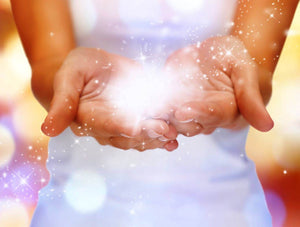 Reiki Healing Session with Inner-Voice Scan and Balancing Harmonics
Regular price $60.00 Sale
Reiki is a technique that aids in releasing stress and tension by creating deep relaxation and balance within your body. Reiki promotes healing, overall health, and vitality. Reiki addresses all parts of a person including the physical, mental, emotional, and spiritual levels. 

Reiki helps to clear energetic blocks in the body and returns us to a state of balance allowing us to deeply relax and heal. 

Reiki can be used to improve sleep, to relieve anxiety and depression, for pain relief, to improve mood, to speed up wound healing, to support mental health, for support in addiction recovery, to calm our nervous system and to bring us out of the fight or flight state that we often find ourselves in.
I absolutely love Reiki and it has changed my life. If you think Reiki might be a good option for you, please know that I am here and would be honored to hold safe and loving space for you as you heal.
Each session will be 60-90 minutes and no session will be rushed.
Each session will include an AO Inner-Voice Scan which analyzes over 2,000 frequencies across 12 notes in a 10 second recording of your voice, and instantly generates a report with four Balancing Harmonics music files. Each file contains frequencies, tones, and binaural beats that are personalized to your emotional state at that moment. Can assist in feeling more balanced and grounded. And you will have the report and tones emailed to you for later use as well.
My healing space is located inside Wellness Within @ 10944 Northland Dr, Rockford, MI  49341.
I cannot wait to see you!